Mueller Farms was started in 2000 with a few Simmental heifers. With Jim and I newly married and living in town, the cattle were housed at Jim's parent's farm.
2007 brought the purchase of our own farm. Our desire to own high quality cattle continued to grow, in 2008 we purchased the foundation of our registered seed stock operation.
Both Jim and I were active in 4-H, so teaching our sons, Jordan and Joey about showing cattle has become our new family pastime.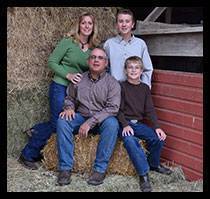 Since 2010 our embryo program and donor pen have grown successfully.
At the 2013 MN State Fair, we were proud to bring home the Premier Exhibitor Award.

As we wrap up the fall show season, we are busy preparing for the 2nd annual Royal Edge Sale in Ames Iowa on Jan, 2 2016. Cattle are coming home from pasture looking great! Check back in December for pictures, videos and catalogs. Plans are underway for the first annual Royal Edge Bull Sale! Save the date for April 2, 2016.